Read on for the latest app updates and news on all-things Bikemap.
iOS Updates:
We are super excited about our latest iOS updates. The Bikemap app got optimized for iOS 13 and includes many new exciting features for you:
Dark Mode
Reading maps is now easier on your eyes. Go to your settings, select the section 'display & brightness' and choose 'dark' appearance. The Bikemap app will now open in dark mode, which is perfect for low-light environments.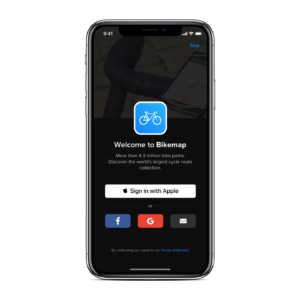 Apple Sign In

You can now create a Bikemap account by using your Apple ID. Easily sign in with your Apple ID to start navigation and track your ride even faster.
Siri Shortcuts

Go to the Shortcuts app and add a new shortcut for Bikemap. Let Siri know to navigate you to your destination by saying "Siri,