Pinar Pinzuti, a cycling Brainwasher, is on a mission to encourage more people to cycle and to convince the government to build safe infrastructure and services for cyclists. For more than 10 years she's been using every possible occasion to insert "cycling" in the political agenda. Pinar works for Milan based company Bikenomist, writes inspiring stories for Bikeitalia magazine, organizes the Italian Cycle Tourism Expo – Fiera del Cicloturismo – and coordinates the international grassroots movement "Fancy Women Bike Ride". She is one of the ambassadors of the Women In Cycling initiative and since June 2022 a proud member of the Eurovelo Council.
When did your love for cycling begin?
I remember my first ride with my Graziella bike as if it was yesterday. Thanks to my bike, I was not limited to staying in our neighborhood. That tiny folding bike provided me the possibility to go far.
At the university, I cycled to the faculty, to save time to sleep more. And as I started to commute for work, the bicycle helped me to arrive on time, avoiding the traffic jam. Then I discovered traveling by bicycle, which allows me to connect with people. Every single bike ride is full of emotions for me.
I would say, I have been falling in love with cycling since I was 7.
You are on the Bikenomist team whose mission is to transform Italy into a bike-friendly country. Can you tell us more about it?
In 2012, we (me and my husband Paolo) were involved into a nationwide movement called "salvaiciclisti" and we were requiring road safety for the cyclists in urban and extra-urban areas. We noticed that the information related to cycling initiatives, accidents, advocacy campaigns etc were never featured in the mainstream media. We decided to create our own media, an online news portal, Bikeitalia.it, which later became the most read magazine about cycling in Italy. With about 1M monthly readers, we started to have a significant voice for the community and used this impactful tool to advocate for cycling.

We are convinced that our cities can be more beautiful, that our air can be cleaner, that our money can be better spent, that our time is too precious to spend it stuck in traffic. The bicycle is one of the most powerful tools we have to achieve all these goals. We collaborate with public and private companies regarding the infrastructure, communication and promotion projects related to cycling.
Is there a story connected to your 'Cycling Brainwasher' title?
In the last twenty years, I have been trying to transform every single person I met into a cyclist. I find creative ways to convince people to ride a bike, at least once a year. Only if we experience cycling, can we develop empathy with those who cycle (and understand how fragile they are in the middle of the traffic).

Once the Bikenomist was founded, I also had the privilege to choose my own title and I called myself a Cycling Brainwasher. Now that I have it on my business card, it is a great icebreaker to start a conversation.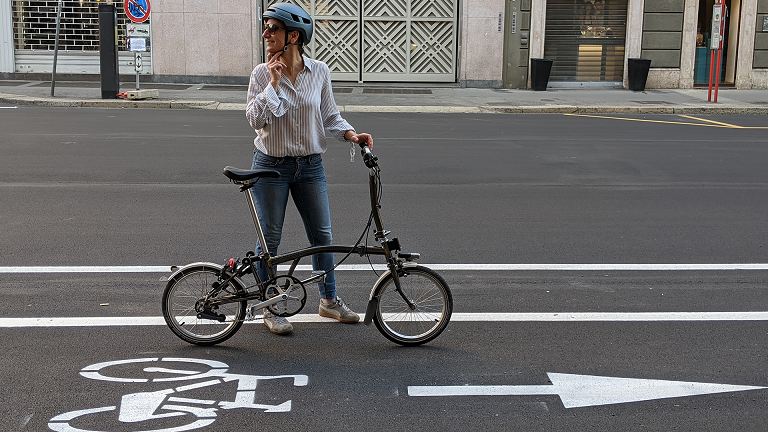 What differences and similarities did you find between cycling communities in Turkey, Germany and Italy?
I was born and raised in Turkey, studied and worked for almost 10 years in Germany and have been living in Italy for the last 15 years. In all these three countries, I met individuals who enjoy cycling and keep cycling for themselves. I met people who ride bikes and they are also convinced that the bicycle is a solution to many complex problems in our cities so they do their best to advocate for cycling. I also met people who dedicate their time and resources to get more people on bikes, through events, conferences, workshops etc. I have a huge respect for these people, for all of them.
The difference between the cycling communities in these countries is that the national cycling association is managed by volunteers in Turkey and Italy so advocacy is something you do in your leisure time. In Germany, the ADFC has paid professionals to advocate for cycling and develop campaigns for cycling. I believe in volunteering but if we, as cyclists, want to be considered in the political agenda, we need to be represented by the professionals.
You are actively involved in women's cycling activities and initiatives. Can you tell us more about Fancy Women Bike Ride and how you became an ambassador of Women in Cycling?
Fancy Women Bike Ride is a grassroots movement, which me and my friend Sema launched as a fun ride in 2013 in Izmir, Turkey. We were trying to understand why a few women were riding bikes so we questioned the "rules" of traditional cycling events and came up with new rules for a only-female bike ride: be fancy, ride slow, smile and wave your hand. Thanks to the beautiful photos and videos of this event, we could reach millions and we started to "normalize" urban cycling. Cycling is not only about sports and adventure travel in some remote places, it is also about sustainable, active, urban mobility. This year, we celebrated the 10th anniversary of the Fancy Women Bike Ride in 200 cities in 30 countries, on the same day. Through this event, we have given visibility to women in public space, to encourage more women to ride bikes.
This year, I received the World Bicycle Day Award from the United Nations for my leadership in promoting cycling for all.

Almost the same with the Women in Cycling initiative. If we have products & services designed and marketed by men, we will continue having men using these products and services. Why are there only a few female professionals in the cycling industry? The Women in Cycling initiative gives visibility to the female professionals and the decision makers in the cycling industry, to encourage more women to consider working for this sector.
You are getting ready for the new edition of La Fiera del Cicloturismo in April 2023, a fair dedicated to travel and cycling holidays. What can we expect?
Italy has a long history of cycling, and a strong bicycle culture, especially for road bikes. The bicycle as a tool to discover the territories is something recently acknowledged, thanks to gravel bikes among the adventure seekers and thanks to e-bikes for the leisure cyclists.
With the cycle tourism fair, we want to emphasize that the protagonist of a cycling holiday is not the bicycle but the person who uses it and the landscape through which he rides. Cycling tourism is still little known by the majority of the tourists, so the fair brings destinations with a variety of cycle routes, tour operators specialized in cycling holidays and the service providers such as apps, bike rentals and bike hotels. To inspire the visitors for their next holiday, in addition to the EXPO area, we also have a TALK area with presentations from different experiences from different parts of the world, from globetrotters to the weekend rides in the neighborhood.

The entrance for the Fiera del Cicloturismo is for free, if you want to enjoy a weekend in Bologna, we expect you on 1-2 April at DumBO Space.
What's a must-cycle destination that you would recommend to our Bikademy community?
I recommend the Green Karst in Slovenia for those who love the routes off the beaten track and enjoy the uncontaminated nature. For those who love to explore ancient civilizations I think Eurovelo 8 route from Pergamon to Ephesus in Turkey is a good destination. For those who would like to make the best out of a city and its surroundings, I recommend Valencia in Spain.
Thank you, Pinar Pinzuti, for the great cycling talk and hope to see you soon!
Bikademy interview powered by